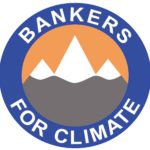 Massimo Preziuso interviews Anders Langworth, Founder of Bankers for Climate
Hi Anders. We are very happy to interview you to understand the mission of your initiative for supporting sustainable development by leveraging the potential of the financial sector's professionals.
What exactly is Bankers for Climate and what is its mission?
Bankers for Climate is a climate change movement for employees in the global financial industry. The purpose is to drive change from within the industry. It is a call to action and a tool which will both address the knowledge gap in the industry and enable all bankers to make a difference. No matter what they do in their daily job, this is both the opportunity and the time to act.